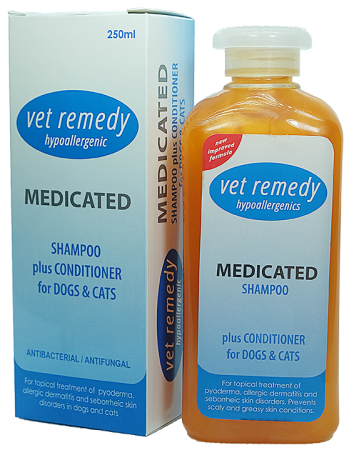 CONTENT
Miconazole
Benzoyl Peroxide
Tea Tree Oil
Selenium
Eucalyptus Oil
Sandalwood Oil (In Therapeutic concentration)
​
INDICATION
For topical treatment of pyoderma, allergic dermatitis and seborrheic skin disorders in dogs and cats. Also indicated for the following skin conditions:
Yeast Infection
Impetigo
Flea bite Allergy
Surgical Wound
Folliculitis
Ringworm
Hotspots
​
APPLICATION
Shake the bottle well. Well the pet's coat with lukewarm water and apply adequate shampoo to develop a rich lather. Leave the pet lathered for 5-10 minutes and rinse off. Repeat if necessary.
Use once or twice a week or as prescribed by the veterinarian. For best results, use together with VET REMEDY MEDICATED CREAM.
CAUTION
For external use only. Avoid contact with eyes. Stop use if condition gets worse or rash or other allergic reaction develops. Consult a veterinarian before using this product on debilitated, aged, medicated, pregnant or nursing animals.
Keep out of reach of children
STORAGE
Store at temperature not exceeding 30'C. Protect from light.
AVAILABILITY
250mL Bottled Shampoo