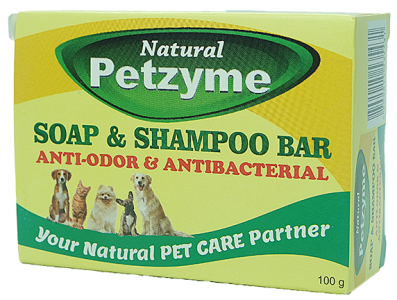 CONTENTS
Sodium Cocoate, Water, Glycerin, Plant Extract (Musa Sap, Sea Weed, Rice Bran), Coco diethanolamide, EDTA, Butyl Hydroxytoluene, Fragrance, Colorant.
INDICATION
Natural from plant Extract
Takes Away bad & offensive odor
Helps dry wounds and lesions fast
Helps reduce bacterial infections
Loads of lather
No Spill
Easy rinse

APPLICATION
Wet the Pet's coat with lukewarm water and apply directly to develop a rich lather and leave for 5-10 minutes before rinsing.

CAUTION
Keep out of reach of children.
AVAILABILITY
Soap Bar 100 grams