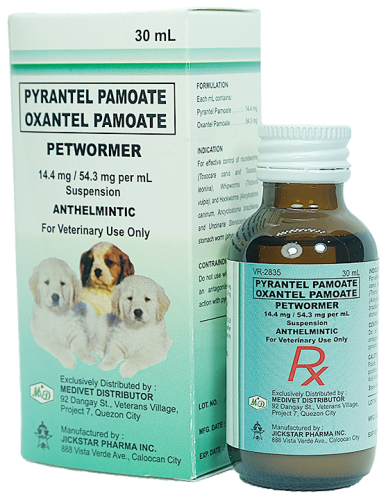 FORMULATION:
Each mL contains
​​​ Pyrantel Pamoate………… 14.4 mg
Oxantel Pamoate ………… 54.3 mg
​
INDICATION
​ For effective control of Roundworms (Toxocara Canis and Toxocara Leonina), Whipworms (Trichuris vulpis), and Hookworms (Ancyclostoma Caninum, Ancylostoma Braziliense and Uncinaria Stenocephala) and Stomach Worm (Physaloptera).
​
DOSAGE AND ADMINISTRATION
​ To be given orally or mix with food. 1 mL for every 1 kg bodyweight at 2,4,8 and 12 weeks of age and thereafter every 3 months or as recommended by a licensed veterinarian.
CAUTION
​ Foods, Drugs, Devices and Cosmetics Act Prohibits Dispensing without Prescription of Duly Licensed Veterinarian.
​CONTRAINDICATION
​ Do not use with Piperazine. it has an antagonistic mechanism of action with pyrantel.
STORAGE
Store at temperature not exceeding 30°C.
AVAILABILITY
30mL Suspension
REGISTRATION NUMBER
VR-2835