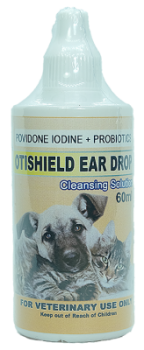 FORMULATION
Each mL contains:
​​​Povidone Iodine ……10mg
Probiotics …………..q.s. ad
​INDICATION
For removal of tissue exudates, debris and coagulum
Otitis Interna and Otitis Externa
Cleansing moist, waxy and odoriferous ear
Fungal Infection (Malazizia Pachydermatitis)
Bacterial and Otodectic Mange
HOW DOES OTISHIELD WORKS
A biological microbial consortia base made up of good micro organism used as an antiseptic, anti-mange, anti-fungal and anti-bacterial agent. It produced an enzymes lactic acids, vitamins and minerals that absorbs and transforms well in the dermal and sub dermal skin tissue. It reduces cellular damage up to 50% and renew up to 70%. It stimulates skin immune system, repair natural defenses, prevent collagen damage and hydrate the skin.
DIRECTION FOR USE
Apply 3 – 5 drops of Otishield Ear Drop (Cleansing Solution) in the outer and inner ear.
Allow it to absorb for 3 – 5 mins.
Gently swab the affected parts by using cotton buds.
Repeat every other day or at least 2 – 3 times a week.
STORAGE CONDITION
Store at temperature not exceeding 30'C. Keep away from direct light.
AVAILABILITY
60mL Solution