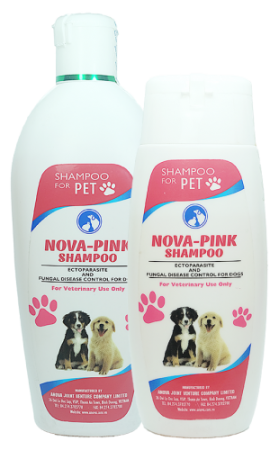 FORMULATION
Each 100 mL contains:
Amitraz ………………… 30 mg
Ketoconazole …………1,000 mg
​
INDICATION
​ For the Prevention and treatment of dermatitis on dogs caused by demodex, sarcoptic mange, fleas associated with cutaneous fungi.
​
DOSAGE AND ADMINISTRATION
​ Thoroughly wet the entire coat with warm water and then apply enough shampoo to obtain good lather. Rub the shampoo all over for 1-2 minutes and allow at least 5 minutes contact time before rinsing well with warm water.
Treatment: Apply Shampoo Once a week for 3-4 weeks
Prevention: Apply twice a month
​
PRECAUTION
​ Avoid direct contact to the eyes of dogs.
​
CONTRAINDICATION
​ Do not use on young puppies under 3 months of age, cats, sick and convalescent animal and in areas containing aquaria. Keep out of reach of children and wash hands well after use.
STORAGE
Store in dry and cool place not exceeding 30°C. Keep away from direct sunlight.
AVAILABILITY
150mL/250mLShampoo
REGISTRATION NUMBER
VR-091