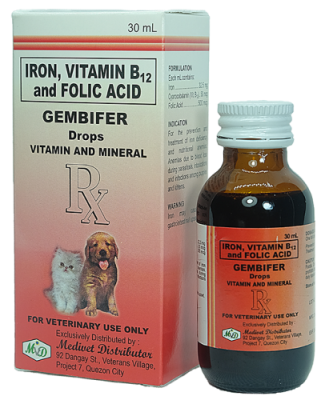 FORMULATION
Each mL contains:
​​​ Iron……………………………………….. 32.5 mg
Cyanocobalamin (Vit. b12)………….50 mcg
Folic Acid ……………………………… 500 mcg
​
INDICATION
​            For treatment of iron deficiency and prevention of anemia due to blood loss during parasitosis, intoxications and infections among puppies and kittens.
DOSAGE AND ADMINISTRATION
Give 10 drops (equal to 0.5mL) per kg body weight once daily or as prescribe by your veterinarian.
Small (1kg to 5kg)
– 0.5 mL to 2.5 mL
Medium (6kg to 10kg)
– 3 mL to 5 mL
Large (11kg to 15kg)
– 5.5 mL to 7.5 mL
CAUTION
​ Foods, Drugs, Devices and Cosmetics Act Prohibits Dispensing without Prescription of Duly Licensed Veterinarian.
​
PRECAUTION
​Iron may cause mild gastrointestinal upset.
STORAGE
Store at temperature not exceeding 30°C.
AVAILABILITY 30mL Drops