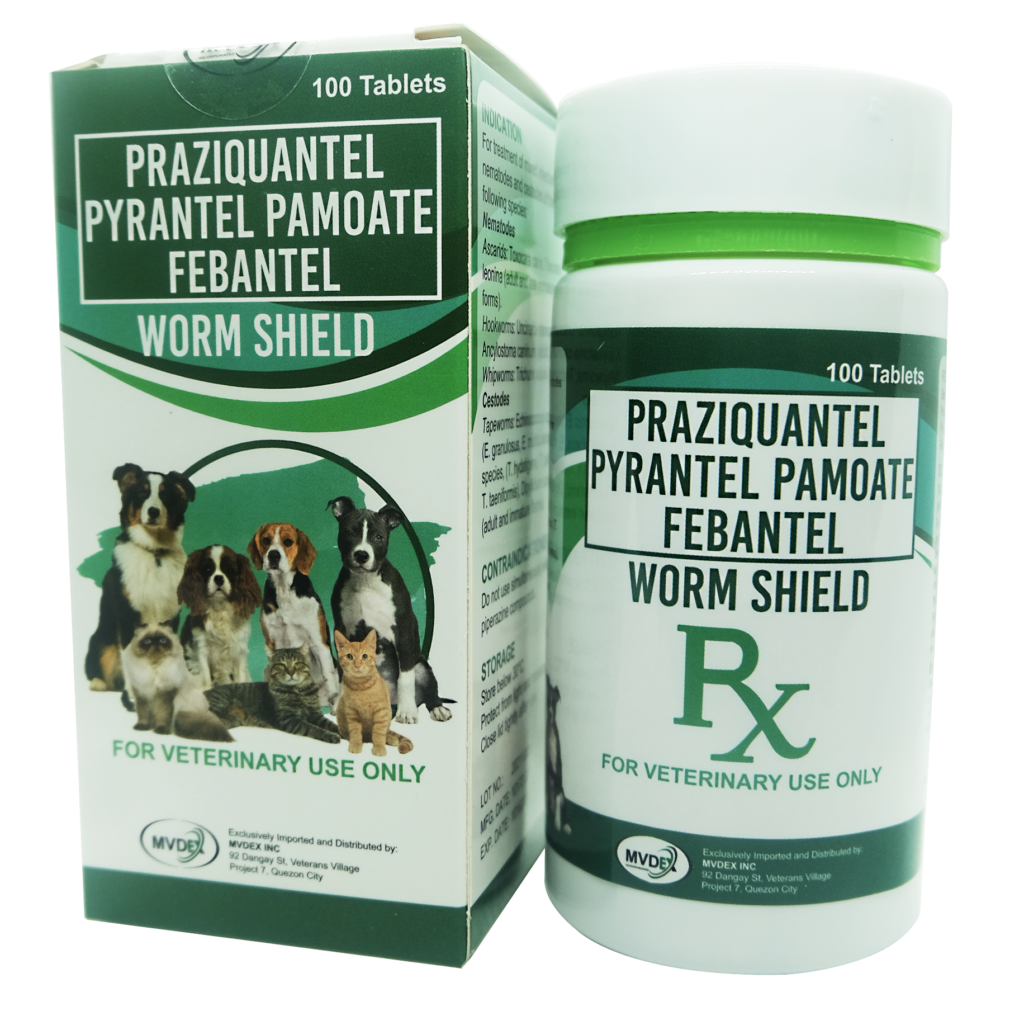 FORMULATION
Each chewable contains:
Praziquantel ………….. 50 mg
Pyrantel Pamoate ….. 144 mg
Febantel ……………….. 150 mg
DOSAGE AND ADMINISTRATION
To be administered orally or as instructed by your veterinarian. For routine treatment a single dose is recommended. In case of young they should be treated at 2 weeks of age and every 2 weeks until 12 weeks of age then repeat at 3-month intervals. It is advisable to treat the mother with their young at the same time. For the control of Toxocara, nursing mother should be dosed 2 weeks after giving birth and every 2 weeks until weaning.
Dosing Guide
Small
Up to 2.5 kg bodyweight = 1/4 Tablet
5 kg bodyweight = 1/2 Tablet
10 kg bodyweight = 1 Tablet
Medium
15 kg bodyweight = 1 1/2 Tablet
20 kg bodyweight = 2 Tablets
25 kg bodyweight = 2 1/2 Tablets
30 kg bodyweight = 3 Tablets
The recommended dose rates are: Febantel is 15 mg/kg bodyweight , Pyrantel is 14.4 mg/kg and Praziquantel is per 5mg/kg bodyweight (1 chewable tablet per 10 mg/kg BW)
INDICATION
For treatment of mixed infections by nematodes and cestodes of the following species:
Cestodes
Tapeworms: Echinococcus species, (E. granulosus, E. multicularis), Taenia species, (T. hydatigena, T. pisifomis, T. taeniformis), Dipylidium caninum (adult and immature forms).
Nematodes
Ascarids: Toxocara canis, Toxocara leonina (adult and late immature forms).
Hookworms: Uncinaria stenocephala, Ancylostoma caninum (adult).
Whipworms: Trichuris vulpis (adults).
CONTRAINDICATIONS
Do not use simultaneously with piperazine compounds.
STORAGE
Store below 30°C.
Protect from light and moisture.
Close lid tightly after use.