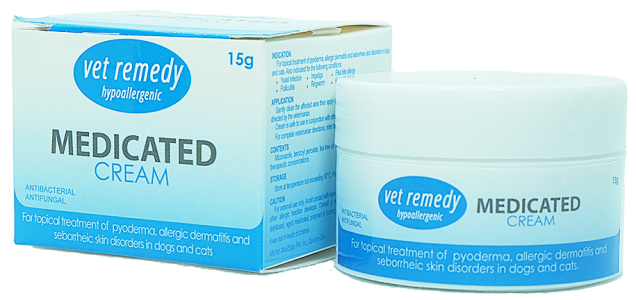 CONTENTS
Miconazole
Benzoyl Peroxide
Tea Tree Oil
Selenium
Eucalyptus Oil
Sandalwood Oil (In Therapeutic concentration)
INDICATION
For topical treatment of pyoderma, allergic dermatitis and seborrheic skin disorders in dogs and cats. Also indicated for the following skin conditions:
Yeast Infection
Impetigo
Flea bite Allergy
Surgical Wound
Folliculitis
Ringworm
Hotspots
APPLICATION
Gently clean the affected area then apply cream twice daily for one to two weeks or as directed by the veterinarian. Cream is safe to use in conjunction with other skin treatments.
CAUTION
For external use only. Avoid contact with eyes. Stop use if condition gets worse or rash or other allergic reaction develops. Consult a veterinarian before using this product on debilitated, aged, medicated, pregnant or nursing animals.
Keep out of reach of children
STORAGE
Store at temperature not exceeding 30'C. Protect from light.
AVAILABILITY 15 grams Cream