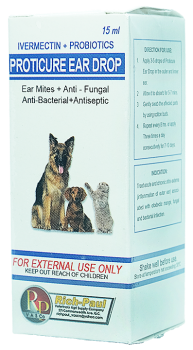 FORMULATION
Each mL contains:
Ivermectin ……………50m
Probiotics …………..q.s. ad
​
INDICATION
​ Treat acute and chronic otitis externa (Inflammation of outer ear) associated with otodectic mange, fungal and bacterial infection.
​
DIRECTION FOR USE
Apply 3 – 5 drops of Proticure Ear Drop in the outer and inner ear.
Allow it to absorb for 5- 7 mins.
Gently swab the affected parts by using cotton buds.
Repeat every 8 hours or apply three times a day consecutively for 7 – 10 days.
HOW DOES PROTICURE WORKS
A biological microbial consortia base made up of good micro organism used as an antiseptic, anti-mange, anti-fungal and anti-bacterial agent. It produced an enzymes lactic acids, vitamins and minerals that absorbs and transforms well in the dermal and subdermal skin tissue. It reduces cellular damage up to 50% and renew up to 70%. It stimulates skin immune system, repair natural defenses, prevent collagen damage and hydrate the skin.
​
STORAGE
Store at temperature not exceeding 30°C. Shake well before use.
AVAILABILITY
15mL Ear Drops