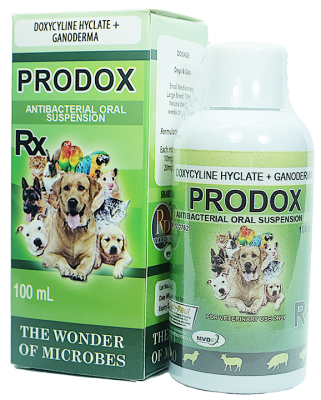 FORMULATION

Each mL contains:
Doxycycline Hyclate ……… 10mg
Ganoderma ………………… 20mg

INDICATION
For treatment of respiratory infections, toxoplasmosis, urinary tract infections, ehrlichiosis, Lyme disease, Leptospirosis and rocky mountain spotted fever in dogs and cats.


CONTRAINDICATION
Do not administer to young pets, lactating and pregnant pets and severe liver disease.
DOSAGE AND ADMINISTRATION
Dogs and Cats:
10 mg/kg BW twice a day for 2-3 weeks consecutively.
STORAGE
Store at temperature not exceeding 30°C. Avoid exposure to heat and sunlight.
Shake well before using.
AVAILABILITY
100mL Suspension
REGISTRATION NUMBER
VRM-17-2762