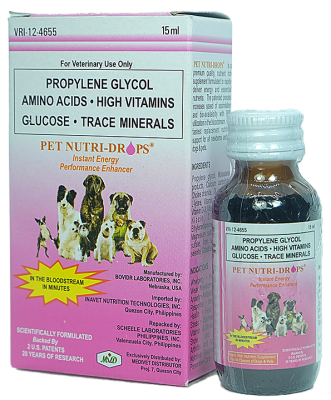 ​FORMULATION
Propylene glycol, Molassess products, Calcium carbonate, Choline Chloride, DL-methionine, L-lysine, Vitamin A Supplement, vitamin D-3, Vitamin E, Thiamine,
Niacin, Zinc sulfate, Ethylenediamine dihydroiodide, Magnesium sulfate, Manganese sulfate, Iron Sulfate, Sodium selenite, Cobalt sulfate, Sugar.
​
​INDICATION

Whelping
Hypoglycemia
Weak newborns
Appetite
Anxiety
Antibiotic and Vaccine Response
Immunity and Health
Heat & Transport Stress
Diarrhea
Disease
Vitamin & Mineral Deficiency
Show and Competition
Arthritis and Aged Dog
Nutritive Balance
Regular Preventive Care
​
DOSAGE AND ADMINISTRATION
All Newborns:
Feed 0.75 mL per 1 kg Bodyweight. ​
Tiny Newborns:
Swab inside mouth with finger.
Adults:
Feed 1 mL per 1.5 kg bodyweight.
​Via Drinking Water:
Mix 10 mL per litter of water, use as needed.
​
PRECAUTIONS
Not recommended for use in cats.
STORAGE
Store in a cool dry place and Keep cap tightly closed to prevent evaporation.
AVAILABILITY
15mL Syrup
REGISTRATION NUMBER
VRI-12-4655