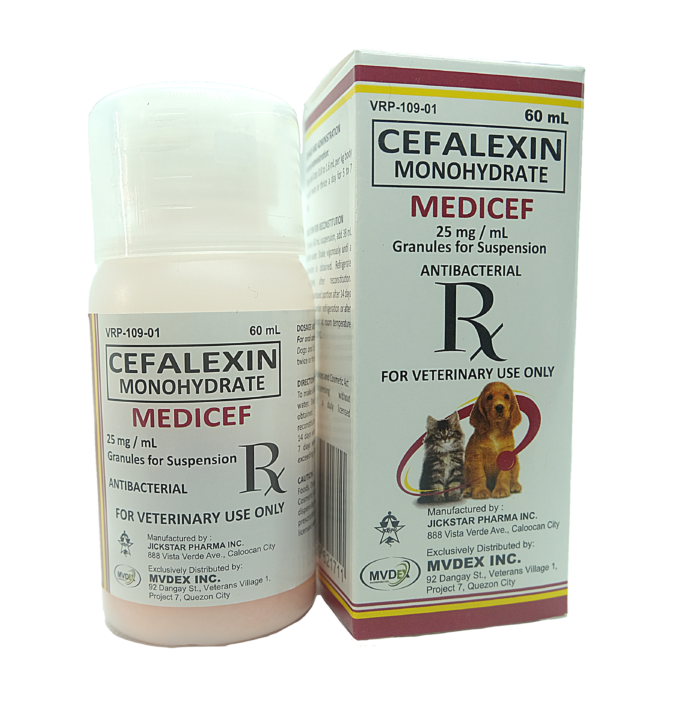 DOSAGE AND FORMULATION
For Oral administration:
Dogs and
Cats: 0.8 to 1.6 mL per kg body weight twice or thrice a day for 5 to 7 days.
DIRECTION FOR RECONSTITUTION
To make a 60 mL suspension, add 38 mL distilled water. Shake vigorously until a suspension is obtained. Refrigerate immediately after reconstitution. Discard the unused portion after 14 days when stored under refrigeration or after 7 days when kept at room temperature not exceeding 30°C.
 CAUTION
Foods, Drugs, Devices and Cosmetic Act prohibits dispensing without prescription of a duly licensed veterinarian.
 FORMULATION
When diluted each mL contains:
Cefalexin (as monohydrate) ……………….. 25 mg
INDICATION
MEDICEF is indicated for the prevention and treatment of diseases caused by microorganisms susceptible to Cephalexin monohydrate.
CONTRAINDICATION
Contraindicated in patients with history of hypersensitivity to cephalosporins and beta-lactam antibiotics (penicillin).
STORAGE
Store at temperature not exceeding 30°C.
25 mg / mL Granules for Suspension
VRP-109-01