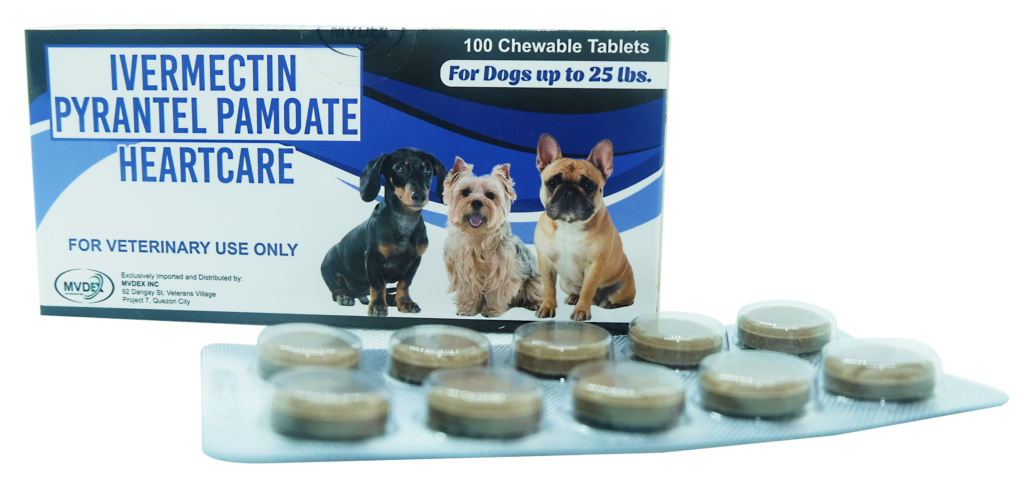 FORMULATION
Each Chewable Tablet Contains:
Ivermectin BP…………………………68 mcg
Pyrantel Pamoate…………………..57 mg
DOSAGE AND ADMINISTRATION
To be given at monthly intervals during the period of the year when mosquitoes are active. The whole tablet should be swallowed (It may be wrapped in food to encourage consumption). Care should be taken to see that the dog consumes the complete dose. The treated animals should be observed for a few minutes after administration to ensure that part of the dose is not lost or rejected. If it is suspected that any of the dose has been lost, redosing is recommended or as instructed by your veterinarian. The recommended minimum dose level of 6mcg of ivermectin per kilogram and 5mg of Pyrantel per kilogram of body weight. The Dosing schedule for prevention of canine heartworm disease and the treatment and control of ascarids and hookworms is as follows.
| | | | | |
| --- | --- | --- | --- | --- |
| Dog Weight | | Tablet Per Month | Ivermectin Content | Pyrantel Content |
| kg | lbs | | | |
| Up to11kg | Up to 25 lbs | 1 | 68 mcg | 57 mg |
Recommended for dogs 6 weeks of age and older.
For dogs over 100lbs use the appropriate combination base on
standard dosing.
INDICATION
For use in dogs to prevent canine heartworm disease by eliminating the tissue stage of heartworm larvae (Dirofilaria Immitis) for 30 days after infection and for the treatment and control of ascarids (Toxocara canis, Toxascaris Leonina) and hookworms (Ancylostoma caninum, Uncinaria stenocephala, Ancylostoma braziliense).
PRECAUTION
If the interval between doses exceeds a month (30 days), the efficacy can be reduced. For optimal performance, the tablet must be given once a month on or about the same day of the month. A mild transient diarrhea has been observed after the treatment of some dogs that have circulating microfilariae.
WARNING
This product should not be used in animals with known hypersensitivity or allergy to the drug. Prior to starting the drug THE DOG SHOULD BE TESTED FIRST FOR HEARTWORMS. This drug should not be used in dogs that are positive for heartworm disease except under the supervision of a veterinarian. Infected dogs must be treated to remove adult heartworms and microfilariae prior to initiating a program. This drug is not effective for microfilariae clearance. Generally this drug should be avoided in dogs less than 6 weeks of age.
SAFETY
This drug has shown a wide margin of safety at the recommended dose level in dogs including pregnant
or breeding bitches, stud dogs, and puppies aged 6 or more weeks. Results of toxicity trials support the
safety of this drug in dogs, including Collies (most sensitive breed), when used as recommended.
STORAGE
Store at controlled room temperature
(15-30°C). Protect from light.