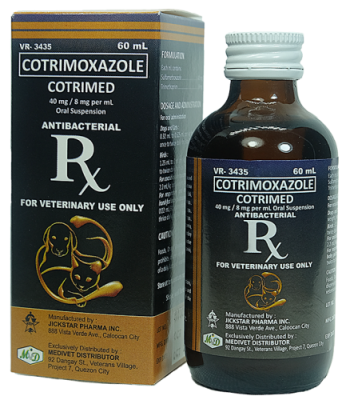 ​
FORMULATION
Each mL contains:
​Sulfamethoxazole………… 40 mg
Trimethoprim………………….8 mg
​INDICATION
​ For the prevention and treatment of diseases caused by Gram-positive and Gram-negative bacteria (Staphylococcus spp., Streptococcus spp., E. coli, Klebsiella spp., Haemophilus spp., Salmonella spp., Shigella spp., Pasteurella spp., Proteus spp., Bordetella spp., Nocardia spp., Enterobacter spp., and Pseudomonas aeruginosa ) like septicemia, respiratory, digestive, genitourinary and secondary bacterial infection after viral diseases. It is also active against protozoa namely Pneumocystis carinii, Coccidia spp., and Toxoplasma spp.
​
DOSAGE AND ADMINISTRATION
​ For Oral administration ​
Dogs and Cats: 0.32 mL to 0.625 mL per kg body weight, once to twice daily for 5 to 7 days.
Birds: 1.25 to 2 mL per kg body weight, once twice daily for 5 to 7 days.
For coccidiosis in toucans and mynahs: 2.2 mL/kg body weight, once daily for 5 days.
For respiratory and enteric infection in hand-fed baby psittacine: 022 mL/30 grams body weight, twice to thrice daily for 5 to 7 days
CAUTION
​ Foods, Drugs, Devices and Cosmetics Act Prohibits Dispensing without Prescription of Duly Licensed Veterinarian.
CONTRAINDICATION
​ Serious liver and / or renal dysfunctions, hypersensitivity to sulfonamide, laying birds and combination with coccidiostats because of the increase toxic action.
STORAGE
Store at temperature not exceeding 30°C. Shake Well Before Using.
AVAILABILITY
60mL Suspension
REGISTRATION NUMBER
VR-3435