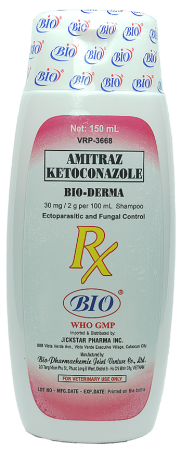 COMPOSITION:
Each 100 mL contains:
​​ Amitraz ……………….. 30 mg
Ketoconazole………… 2000 mg
​
INDICATION
Controls mange, fleas and fungi
Leaves a fresh smelling and shiny coat
Helps in maintaining healthy skin
​
DIRECTION FOR USE
Thoroughly wet the entire coat then apply enough shampoo and work thoroughly into the coat for 1 to 2 minutes. For best result allow lather to remain in contact with skin for five minutes before rinsing. Rinse well. Apply the shampoo once a week.
​
RECOMMENDATION
For dog external use only.
Do not allow to get into the eye of dogs.
Wash your hands well after use.
Keep out of reach of children.
​
PRECAUTION
Avoid direct contact to the eyes.
CAUTION
Foods, Drugs, Devices and Cosmetics Act prohibits dispensing without prescription without prescription of a duly licensed veterinarian.
STORAGE
Store at temperature not exceeding 30'C.
AVAILABILITY
150mL Shampoo Bottle
REGISTRATION NUMBER VR-3668