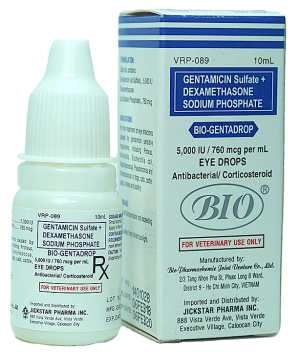 FORMULATION
Each mL contains:
Gentamicin (as Sulfate)…………….5,000 IU
Dexamethasone…………………….. 760 mcg
(as Sodium Phosphate)
​
INDICATION
​ For the treatment of eye infections caused by gentamicin sensitive organisms, including proteus, Klebsiella, Escherichia, coli, staphylococcus, pseudomonas and Streptococcus in dogs, cats, cattle, goats, sheep and poultry.
​
DOSAGE AND ADMINISTRATION
​ Small Animals: 1 – 2 drops
Large Animals: 4 – 5 drops
Apply in the conjunctive sac, 4-5 times per day not exceeding 10 days.
​
COTRAINDICATION
​Corneal Ulcerations
Glaucoma
RECOMMENDATION
​ It is recommended to be used within 28 days at room temperature upon opening.
CAUTION
Foods, Drugs, Devices and Cosmetics Act prohibits dispensing without prescription of a duly licensed veterinarian.
STORAGE
Store at temperature not exceeding 30°C. Keep away from direct sunlight.
AVAILABILITY
10mL Drops
REGISTRATION NUMBER
VRP-087